Venue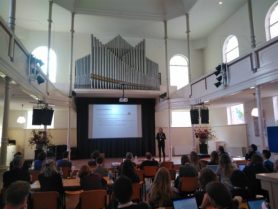 The conference is held at De Zalen van Zeven (Boothstraat 7), a church that was built in 1900 and is located in the old city centre of Utrecht, the Netherlands. It can be reached from Utrecht Central station by bus (5 minutes, nearest bus stop Janskerkhof) or walking (15 minutes). The nearest parking garages are de Grifthoek and Kruisstraat. Many hotels are located on walking distance from the venue. We requests that all participants arrange their own accommodation.
Map
Address: Boothstraat 7, 3512 BT Utrecht (Directions).
Utrecht
More information about Utrecht can be found at www.visit-utrecht.com. For more information about The Netherlands, please visit holland.com, the official website of the Netherlands Board of Tourism and Conventions, where you can obtain all the information you need for your visit to Holland.
If you want to travel in the Netherlands, using public transportation (trains, trams, busses) you might want to buy an OV chipcard which is valid in public transport in the entire country. You can buy it at the airport and all major train stations, or online.
In Utrecht you can buy an OV chipcard at Central Station, and at the following shops: Primera, AKO, Readshop, Bruna and supermarkets. The retail price for the card is 7,50 euro and you can load your OV chipcard with credit at a reloading device, which can be found at railway stations and affiliated resellers. The card is valid for four years, so you can also use it during future visits to the Netherlands. You can still travel without an OV chipcard and buy train tickets at the station and bus tickets in the bus, but then the total travel costs during the workshop might be higher. Find more information on the
OV chipcard website
.